by Navy Yard
June 28, 2022
Media contacts:
Jennifer Tran, PIDC, 215-218-2854
Robbie Tarpley Raffish, a.s.a.p.r., 410-430-9705
Press Kit with Renderings Available at https://bit.ly/navyyardplanpress
CREDIT: Renderings by James Corner Field Operations, courtesy of PIDC and Ensemble/Mosaic
---
2022 Navy Yard Plan Unveiled, Focused on Job Creation, Equitable Growth, & Increased Accessibility
PIDC and Ensemble/Mosaic today unveiled the 2022 Navy Yard Plan, a transformative roadmap for equitable growth that throughout the next 20 years will deliver 12,000 new jobs, 8.9 million square feet of new life science, commercial, residential, retail, and mixed-use development and $6B of new investment—of which, $4.8B will be generated by Ensemble/Mosaic's development initiatives. Mayor Jim Kenney, government officials, and many of the Navy Yard's 150 businesses were in attendance.
The dynamic new plan leverages sustained growth in advanced life sciences and manufacturing, increased accessibility, and inclusive mixed-use development to drive equitable economic growth, with robust opportunities for diverse businesses and an expansive array of quality-wage jobs and workforce development training programs. The event also celebrated 64 graduates of the Navy Yard Skills Initiative, a workforce training program launched by PIDC and the West Philadelphia Skills Initiative in 2020.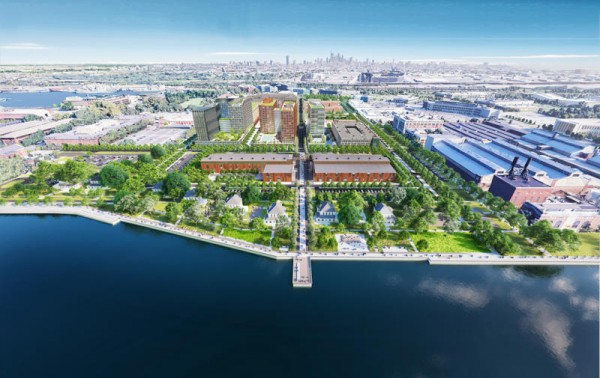 "The Navy Yard has been an anchor and economic driver for Philadelphia for more than two centuries, serving in both times of war and peace. Today, the progress it has made and will continue to make as outlined in this Plan will help reinforce its role as a leading business and life sciences campus and an unrivaled asset to the city," said Philadelphia Mayor Jim Kenney. "I am thrilled to celebrate all of the Navy Yard's milestones today, the critical work PIDC does to drive its growth, and I look forward to its bright future for continued investment, entrepreneurship, and employment in Philadelphia."
This is the third plan undertaken since PIDC, Philadelphia's public-private economic development corporation, took ownership of the former military base on behalf of the City of Philadelphia, following the original plan in 2004 and an update in 2013. Since 2000, PIDC has led the planning, development, and operation of the Navy Yard to fulfill its mission—to spur investment, support business growth, and foster developments that create jobs, revitalize neighborhoods, and drive growth to every corner of Philadelphia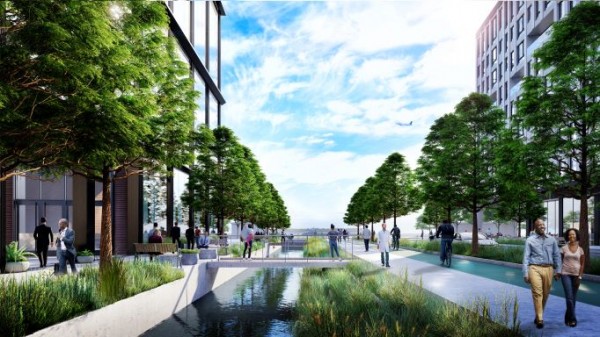 "Throughout its history, the Navy Yard has been at the leading edge of innovation and this transformative plan continues to break new ground," said Kate McNamara, PIDC's Senior Vice President, Navy Yard. "We are incredibly excited to set a new standard for equitable development that balances inclusive business growth with sustainability, connectivity, beautiful public spaces, and quality jobs for all Philadelphians."
In April 2021, PIDC and Ensemble/Mosaic selected James Corner Field Operations (Field Operations) through a competitive RFP process to lead in the planning. Throughout the last year, the Field Operations team, PIDC, and Ensemble/Mosaic worked with more than 300 stakeholders—including Navy Yard businesses, public-sector stakeholders, adjacent communities, and residents throughout Philadelphia—to create an inclusive and equitable framework for the next phase of development. Through focus groups, postcard programs, events, and one-on-one interviews, the team gained insight into opportunities, challenges, and future uses for the campus, providing critical input on vision, values, and the ultimate Plan.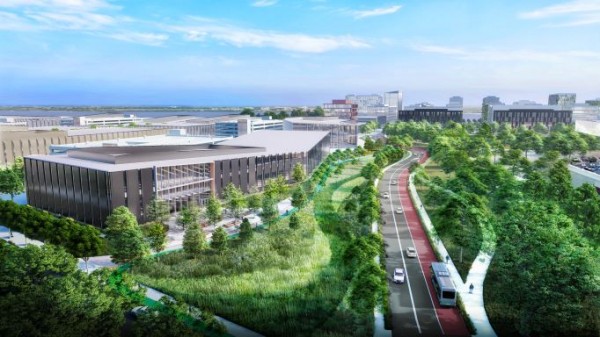 Field Operations, guiding a vision grounded in public realm and sense of place, was complemented by a large team of experts in inclusive economic development, architecture, and sustainability. (See complete list of consulting firms, below.) The design and planning process has been driven by more than a dozen minority- and women-owned companies, with 49% of total project costs going to these contracted entities.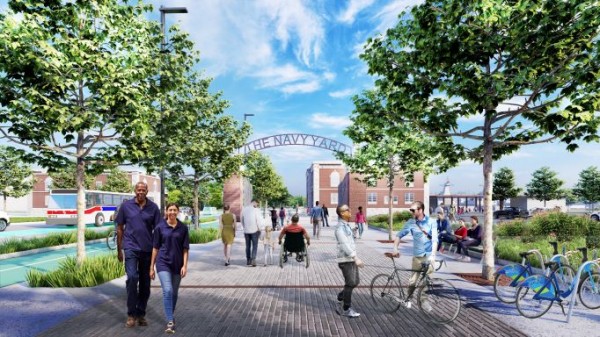 As previously announced, Ensemble/Mosaic has pledged in excess of $1B to diversity, equity, and inclusion (DEI) hiring and initiatives while planning and building out the company's 109-acre mixed-use development at the Navy Yard. To date, in the pre-development phase, $10M has been invested in services rendered by minority- and woman-owned businesses.
"Our focus the entire way through the plan development has been to remember that the Navy Yard is public land and its development should be about people," said Kam Babaoff, Chairman and Co-Founder of Ensemble Real Estate Investments. "Every one of the 109 acres we develop – whether for the first residential property in more than 70 years, or for thriving retail, life science, and corporate use – will increase accessibility and provide an environment that supports equity in all facets."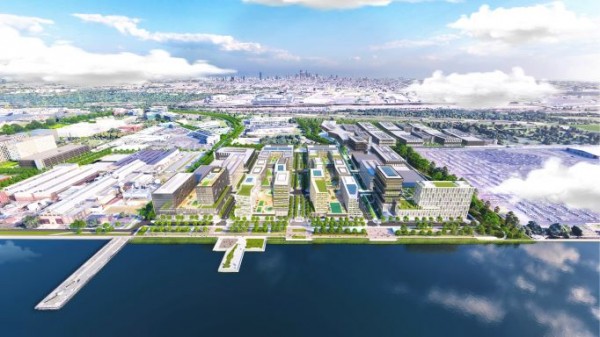 Five Principles – One Plan
Each facet of the plan has been guided by a set of principles, crafted to create a new standard of equitable development. These principles directly shape a plan for a Navy Yard that is Inclusive and Welcoming, Connected and Multimodal, Vibrant and Active, Innovative and Resilient, and a place for Equitable Business Growth and Job Creation.
Highlights of the plan include:
Significantly expanding the Navy Yard's cutting-edge cluster of cell and gene therapy firms dedicated to curing cancer and chronic diseases by building out an additional 4.3 million square feet of GMP, lab, and office space catering to companies at all stages from start up through commercialization.
Bringing residential and retail to the Navy Yard with Ensemble/Mosaic's 109-acre mixed-use development. For the first time, the public will be able to live and shop at the Navy Yard with the planned 3,900 apartment units and 235,000 square feet of retail and makerspace. 15% of apartments will be offered at affordable rates and 25% of retail will be subsidized for minority- and women-owned businesses.
Intertwining the public realm with new development; extending, expanding, and preserving open space, forging a cohesive built environment that is deeply rooted in the natural space that abounds at the Navy Yard. The waterfront is celebrated with new activities, spaces, and connections accessing this important resource.
Driving equity by increasing accessibility for all in and around the Navy Yard will be achieved through additional public transit options including bus rapid transit (BRT), dedicated bike lanes, pedestrian-only streets and plazas, and a new gateway at Broad Street.
Maximizing resiliency through raising vulnerable portions of the site, incorporating innovative stormwater infrastructure including canals and swales along the streets on the east side of the campus to convey stormwater, and using dry ponds, green roofs, and resilient landscaping and trees.
Demonstrating sustainability, which has always been a hallmark of the Navy Yard, is being furthered through the pursuit of Philadelphia's first LEED Gold Neighborhood Development of scale, a program which creates more sustainable, well-connected neighborhoods, looking beyond the scale of buildings to consider entire communities.
Growing the Navy Yard's dynamic shipbuilding, ship repair, and heavy industrial companies by investing in critical infrastructure which facilitates further expansion and quality-wage, diverse job creation.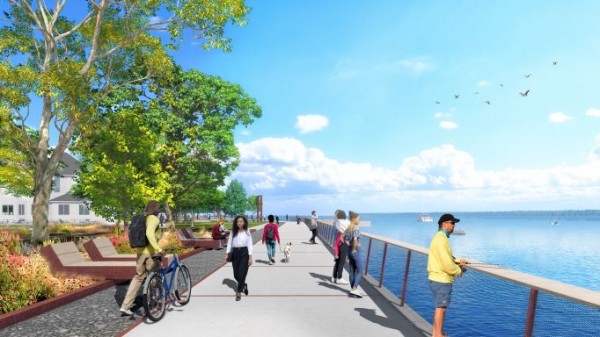 Workforce Development Program Milestone and Foundation Contribution
In addition to unveiling the 2022 Navy Yard Plan, PIDC also celebrated the graduation of 64 participants from its Navy Yard Skills Initiative workforce development program, with some of the graduates in attendance. The program, which has completed five cohorts to date in partnership with University City District's West Philadelphia Skills Initiative, connects Philadelphia residents with full-time, permanent, quality-wage careers while providing Navy Yard businesses with the highly-skilled talent they need across a wide range of industries.
The fourth cohort of 16 trainees spent three weeks in an apprentice training program in partnership with Philly Shipyard, Inc., resulting in all 16 graduates being offered full-time, union jobs. Earlier this month, a new group of participants began training in partnership with Tastykake as production associates, resulting in 11 being offered jobs. Future programs will include life science and healthcare roles with other Navy Yard companies.
In May, Ensemble/Mosaic announced the formation of the Ensemble/Mosaic TNY Empowerment Foundation with a $1M commitment of seed money and additional funds coming from each individual project Ensemble/Mosaic develops in the Navy Yard. During the 2022 Navy Yard Plan event, the Foundation made its first contribution, $100,000 to the Navy Yard Skills Initiative, which will allow the program to continue to implement high-quality programming that will directly connect Philadelphians to jobs at the Navy Yard.
"Our 2022 Navy Yard Plan and the Ensemble/Mosaic TNY Empowerment Foundation are both about creating opportunity, which is exactly what the Navy Yard Skills Initiative does," said Leslie Smallwood-Lewis, Founder and Owner of Mosaic Development Partners. "We are thrilled that our Foundation's first donation will be to a program that provides access and opportunity that can help Philadelphians thrive. It is really why all of us – planners, developers, professionals, and employers – are here, in this special place."
Press Kit with Renderings Available at https://bit.ly/navyyardplanpress
List of Planning Consultants:
James Corner Field Operations – Philadelphia, PA – planning lead, landscape architecture, placemaking
DIGSAU – Philadelphia, PA – architecture
Urbane Development – New York, NY – retail consulting, community planning, economic and workforce development
Mdesigns – Philadelphia, PA – equitable development, housing affordability
Toole Design – Silver Spring, MD – transportation planning
Pennoni – Philadelphia, PA – infrastructure planning
David Mason + Associates – Philadelphia, PA – infrastructure (utility) planning
Rodriguez Consulting – Philadelphia, PA – infrastructure (civil) planning
Sherwood Design Engineers – New York, NY – integrated resilient systems planning
HERA – Philadelphia, PA – laboratory planning
THA Consulting – Blue Bell, PA – parking planning
Re:Vision – Philadelphia, PA – LEED neighborhood planning
Dharam Consulting – New York, NY – cost estimating
Amber Art and Design – Philadelphia, PA – arts-based community engagement