by Navy Yard
June 5, 2023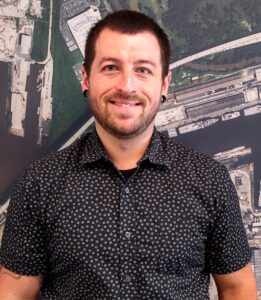 Brandon Capone has seen a lot in his nearly nine years of working as a security officer at the Navy Yard. Most recently, he saw his role and responsibilities with Allied Universal Security Services (Allied) increase. (Allied is the contracted security company at the Navy Yard for PIDC.)
Capone, who lives in South Philadelphia with his wife Felicia and adopted puppy Ravyn, started with Allied in September 2014 as a gate officer, and in May, he was promoted from site supervisor to assistant account manager for Allied at the Navy Yard.
"There have been a lot of rewarding things about working with Allied at the Navy Yard – both with my job specifically as well as with the location," he said. "I would say that moving up the ladder for my career – starting as a guard, then a shift supervisor, then site supervisor, to now assistant account manager has been really rewarding. I've grown so much because of this job, and I continue to learn more and more from our client and my co-workers every day. In addition, it's been rewarding to see the Navy Yard change and expand so much in my nine years here. It's amazing to see the new construction coming to life and there are always cool things happening like the Group X public art instillations as well as many different food trucks and events."
Aside from the art projects and events, Capone said working at the Navy Yard has been life-changing work. Here he's learned a lot and continues to grow as a person because it feels like a second home to him where he can do work he is proud of and the challenges he gets to overcome.
"Something I am very proud of happened while working as a guard on Christmas Eve 2017. I saw a man experiencing a medical emergency, and I sprang into action by giving him CPR, which I learned due to my job, and I ended up saving his life. It is something that no one wants to have to see or do, but I am very proud that I was able to help someone in such a big way."
Capone also makes positive impacts on those he works with.
"I was so proud of Brandon for his promotion," said Jim Wolfson, Allied's director of security at the Navy Yard. "It's been truly amazing to see his growth over the years – leaps and bounds since he started. He is always willing to learn and chip in where needed. We are a better team because of his dedication, leadership, and mentoring of junior staff."
"Brandon's promotion is well deserved," said Kate McNamara, PIDC's senior vice president at the Navy Yard. "He has been with Allied at the Navy Yard for a long time, and he is a pleasure to work with. The Navy Yard is a 1,200-acre campus that is home to 150 diverse businesses,15,000 employees and sees thousands of visitors a year; his experience and being able to depend on him when needed is vital for the safety and operations of the Navy Yard."
As for Capone, when he is not working with his team to keep the Navy Yard safe and orderly, you can find him doing house projects, relaxing with his wife and puppy, and maybe playing some video games.