by Navy Yard
March 30, 2023
The 22-week program, which began recruitment last summer and generated more than 400 applicants, graduated its first class at a ceremony held at Iovance Biotherapeutics at the Navy Yard March 10th, 2023. In total, 13 students graduated from the program, and ten will be connected with employment at Iovance Biotherapeutics as Aseptic Technicians starting at $23.50/hour.
Associate aseptic manufacturing technicians are responsible for maintaining a sterile lab environment, assembling sterile products, stocking supplies, and documenting processes of biomedical manufacturers in supporting the creation of cell therapies. The Skills Initiative and Wistar teams will provide guidance, resources, and continued support to the graduates who did not receive employment offers to ensure they can land positions at other local biomanufacturing organizations.
For Sanyu Carpenter the program offered him an opportunity challenge himself and to learn something different.
"I wanted to see what more I can do," said Carpenter, "This program taught me a lot. I learned about building an understanding of working in the sciences but also about building myself as an individual."
This collaborative program, which is a first of its kind in the region, was modeled on Wistar's successful BTT Program for community college students and focused on an underserved adult population – adults with a GED or high school diploma. For our efforts, the program was awarded the Workforce Champion of the Year in the 3rd Annual 2022 BioBuzz Awards. The award, based on votes from individuals throughout the community, celebrates the outstanding life science institutes, companies, and people that make up the Philadelphia and BioHealth Capital Regions.
"It's been incredible to see this program come to fruition through the first training cohort graduation," said Kate McNamara, PIDC's SVP at the Navy Yard. "It speaks volumes to the strong partnerships between each of these organizations to build a truly unique, award-winning training model that will serve as the standard for how we train and connect Philadelphians with future opportunities in the life science space. We look forward to seeing future life science training cohorts being implemented at the Navy Yard and continuing to connect Philadelphians with meaningful career opportunities in Philadelphia."
"The development of this unique program, perhaps our most complicated to date, required thoughtful collaboration from key partners throughout Philadelphia," said Cait Garozzo, executive director of the West Philadelphia Skills Initiative. "To see these 13 participants grow during the program, take on the challenge of a full externship, and graduate with a focused and in-demand set of skills is inspirational and leaves us excited for future projects." Program Information
Program Information
The 22-week paid training program began with 10 weeks of evening classes at The Wistar Institute focused on preparing participants with a foundation in cellular and molecular biology as applicable to the life sciences industry. After the first 10 weeks, participants took part in a full-time, hands-on laboratory orientation at The Wistar Institute before transitioning to externships at the Iovance iCTC (Cell Therapy Center) at the Navy Yard.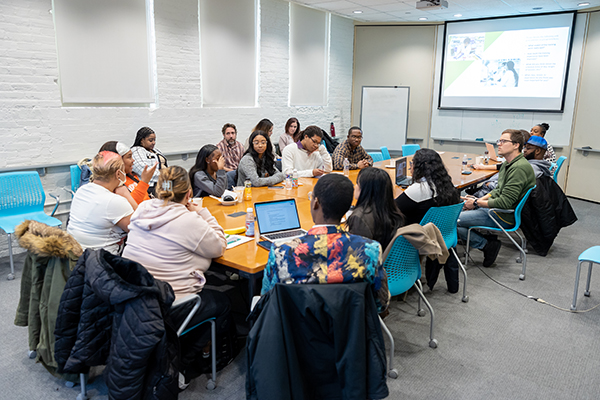 About West Philadelphia Skills Initiative
The West Philadelphia Skills Initiative (WPSI) is one of the nation's most successful workforce development organizations. For over 10 years, WPSI has solidified its role as one of the highest performing workforce intermediaries in the country by building customized talent solutions that bridge the divide between unemployed Philadelphians seeking opportunity and employers seeking talent. WPSI focuses on professional development and career coaching for adults.
About PIDC and the Philadelphia Navy Yard
PIDC is Philadelphia's public-private economic development corporation. Since acquiring the 1,200-acre site from the federal government in 2000, PIDC has been the master developer and site operator of the Navy Yard. PIDC's mission—to spur investment, support business growth, and facilitate developments that create jobs, revitalize neighborhoods, and drive growth to every corner of Philadelphia—strongly informs its strategy for the Navy Yard, where the focus is on building a cohesive community that fosters employment, innovation, and production. PIDC manages all aspects of the property's management and development, including master planning, leasing, property management, infrastructure development, utility operation, and structuring development transactions.
About The Wistar Institute
The Wistar Institute is the nation's first independent, non-profit biomedical research institute and a world leader in early-stage discovery science in the areas of cancer, immunology, and infectious disease. Wistar recently announced the creation of the Hubert J. P. Schoemaker Education and Training Center to bring together its education programs for high school, undergraduate and graduate students as well as postdoctoral fellows, with its expanding pre-apprenticeship and apprenticeship training, including the newly named Fox Biomedical Research Technician (BRT) Apprenticeship.
About Iovance Biotherapeutics
Iovance Biotherapeutics aims to be the global leader in innovating, developing and delivering tumor infiltrating lymphocyte (TIL) therapies for patients with cancer. We are pioneering a transformational approach to cure cancer by harnessing the human immune system's ability to recognize and destroy diverse cancer cells in each patient. Our lead late-stage TIL product candidate, lifileucel for metastatic melanoma, has the potential to become the first approved one-time cell therapy for a solid tumor cancer. The Iovance TIL platform has demonstrated promising clinical data across multiple solid tumors. We are committed to continuous innovation in cell therapy, including gene-edited cell therapy, that may extend and improve life for patients with cancer. For more information, please visit www.iovance.com.
About The Chamber of Commerce for Greater Philadelphia's CEO Council for Growth
The Chamber of Commerce for Greater Philadelphia's CEO Council for Growth (CEO Council) leads our region forward by envisioning a stronger, more competitive community, convening decision makers, taking action, and advocating for policies and practices that strengthen our regional economy. The CEO Council advocates through its members and engaged stakeholders to enhance economic growth and prosperity in the region. We prioritize the revitalization and enhancement of our region's talent, mobility, and innovation. The CEO Council's Cell & Gene Therapy Initiative is leveraging Greater Philadelphia's specialized assets to accelerate growth and promote the region as the global hub of research, talent, capital, and companies in cell & gene therapy, gene editing, and connected health. For more information, visit www. ceocouncilforgrowth.com